A New Wave of Angel Investors – Startup Investing for the Masses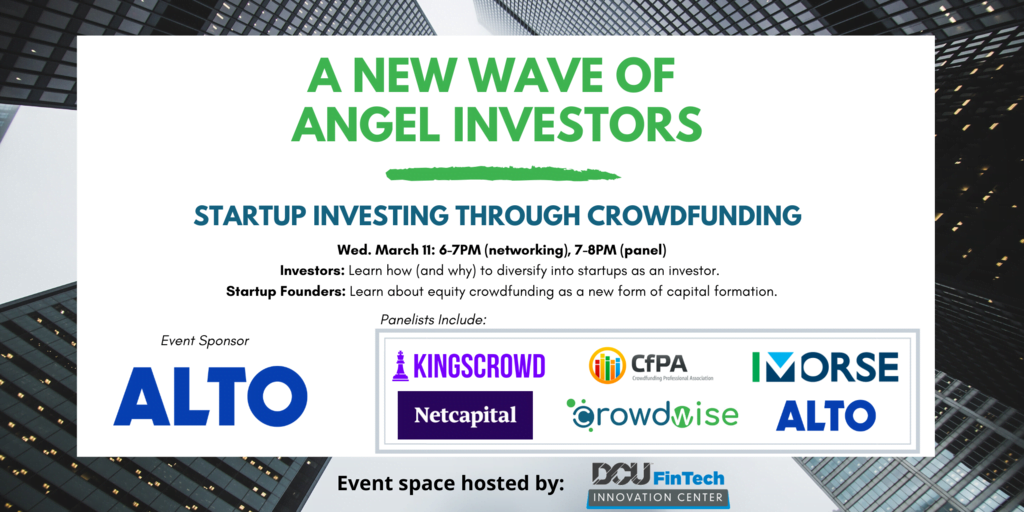 Date/Time
Date(s) - 03/11/2020
6:00 pm - 8:30 pm
Location
DCU FinTech Center (Boston)
Categories
[thrive_link color='blue' link='https://www.eventbrite.com/e/a-new-wave-of-angel-investors-startup-investing-through-crowdfunding-tickets-88501525445′ target='_blank' size='medium' align="]Register for Free on Eventbrite[/thrive_link]
Hosted by the Crowdfunding Professional Association (CfPA) and the DCU FinTech Innovation Center.
Panelists include members from Alto, Crowdwise, Kingscrowd, Morse, and Netcapital.
Networking hour refreshments sponsored by Alto – Alto is a self-directed IRA custodian and transaction portal that makes it easy and affordable for individuals to invest their tax advantaged retirement savings in alternative assets, like real estate, private equity, venture capital, funds, credit products, commodities, crypto, art and other collectibles. We give individual investors a new level of control over their investment decisions and activity.
Event Details
6-7PM: Registration and Networking hour
7-8PM: Panel Session and Q&A
8-8:30PM: Additional Networking
For the first time since the SEC was established in the 1930s, any investor, regardless of wealth or background, can now invest in pre-IPO startups. No longer is this asset class only restricted to the uber-wealthy (aka accredited investors).
Whether you are an investor interested in supporting the passionate founder down the street or an investor looking to diversify into startups as an asset class, this panel session will cover the opportunities presented by equity crowdfunding.
Investors will learn:
Why more investors are diversifying and investing in the private markets
How any US investor, regardless of background or wealth, can now invest in startups
Risks and rewards of investing in startups as an asset class
Startup Founders will learn:
Why more and more companies are turning to equity crowdfunding instead of traditional angel and VC
What the primary reasons are that investors are looking to invest in startups
Potential pros and cons of equity crowdfunding
Networking hour from 6-7PM EST with refreshments (light food and drinks) sponsored by Alto.
The panel session will kick off at 7PM, with quick introductions and an overview of what equity crowdfunding is. The panelists will then open the floor to questions. Panelists include:
Kingscrowd (Chris Lustrino – CEO and Founder) – the #1 equity crowdfunding rating service, and a startup that has raised over $1 million using crowdfunding.
Netcapital (Jason Frishman – Founder and CEO) – a local Boston startup and marketplace (ie funding portal) for startup investing. Enabling entrepreneurs to raise capital more efficiently with technology.
Alto (James O'Brien – VP Partnership & Integration) – a self-directed IRA that allows investors to diversify retirement savings with investments in startups, growth companies, real estate, loans and digital assets.
Morse (John Hession, Partner and Vice President, Business Development) – angel investor, legal and business advisor to more than 400 companies in a variety of industries.
Crowdwise (Brian Belley – Founder) – educational tools and resources for crowdfunding investors; Board member of the Crowdfunding Professional Association (CfPA).
Stick around after the panel sessions for additional networking and light refreshments.
A special thanks to the DCU FinTech Innovation Center for providing the space for hosting this event!