How to Avoid Angel Investing Pitfalls Webinar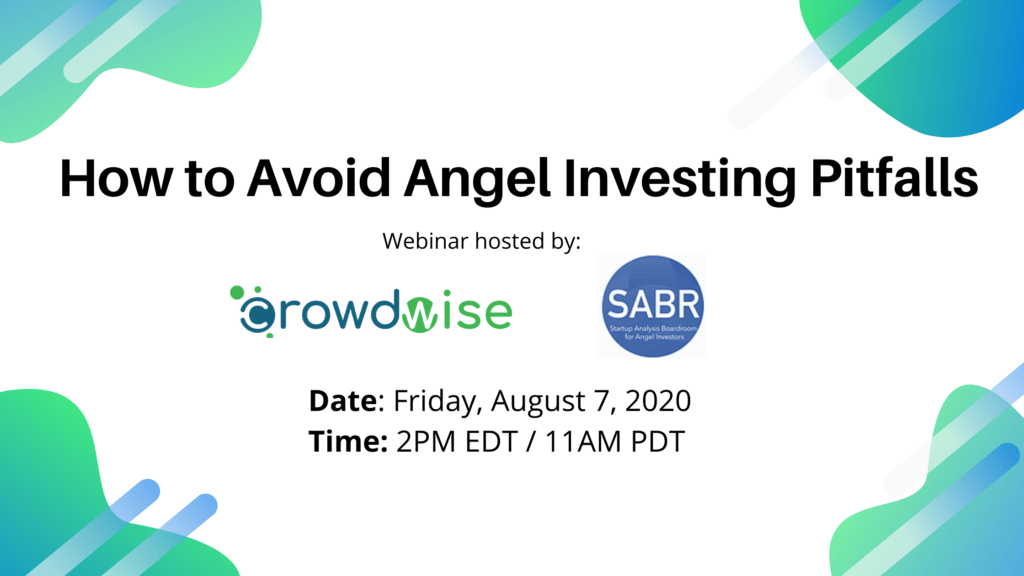 Map Unavailable
Date/Time
Date(s) - 08/07/2020
2:00 pm - 3:00 pm
Categories
Whether you are experienced in online angel investing or just getting started, there are pitfalls everywhere to be aware of. Especially during a time of economic uncertainty and relaxed SEC regulations, angel investors should be aware of certain things to look out for when investing, and these pitfalls are constantly evolving.
Join Helen Ruan (Founder, Principal Analyst at SABR) and Brian Belley (Founder at Crowdwise) for a webinar discussion on how to avoid angel investing pitfalls.
Date: Friday, August 7, 2020
Time: 2-3PM EDT / 11AM-12PM PDT
Note: Space will be limited to the first 100 attendees
RSVP: Please pre-register here
Learn from Brian and Helen's cumulative knowledge and experience of having screened and invested in literally hundreds of startup deals. Topics will range from deal terms to look out for, to industry trends, regulatory changes, and more.
Bring your own questions to this interactive session with two of the industry's experts and share your thoughts with other like-minded angel investors. You can also submit questions in advance using the comments section below.
Note: spots will be limited, so please be sure to sign in promptly at the start of the webinar.
We hope to see you there.