Equity Crowdfunding for Investors – Book Review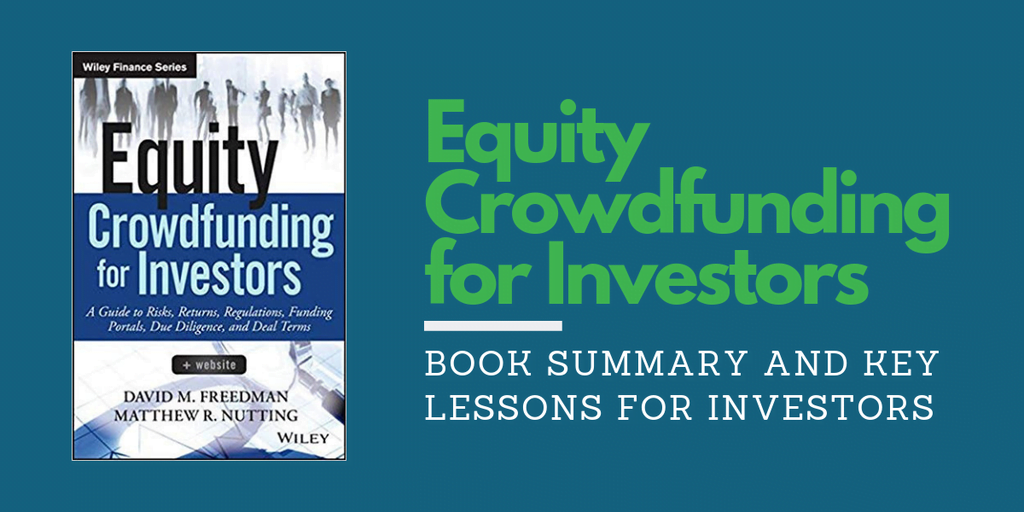 "Few opportunities in life can generate personal wealth as profoundly as being a founder or early investor in a startup that achieves grand success." – Equity Crowdfunding for Investors
Browsing Amazon or your local book shop, one can find many books on angel investing and Venture Capital (VC) investing. However, books that discuss the nuances of investing in startups through equity crowdfunding are few and far between.
Since Regulation Crowdfunding (Reg CF) has only existed since 2016, this should come as no surprise.
Does this mean that investors in Reg CF – and other forms of equity crowdfunding, such as Regulation A+ and even Regulation D – are stuck with angel and VC books in order to find helpful resources for early-stage investing?
Fortunately, the answer is no.
Equity Crowdfunding for Investors was written and published in 2015 by authors Matthew R. Nutting and David M. Freedman.
Despite being released one year prior to Reg CF going live, as of mid-2019, this is still the most comprehensive and thorough book for equity crowdfunding investors that I have come across.
The subtitle, "A guide to Risks, Returns, Regulations, Funding Portals, Due Diligence, and Deal Terms", shows that it covers everything from theory, to historical performance of private market investments, to implementing a crowdfund investing strategy.
The content has withstood the test of time quite well. Most of the book is still accurate and insightful, with a few rare exceptions (such as not being able to list top funding portals and other statistics that change from month to month).
Do yourself a favor – if you haven't already, grab yourself a copy of Equity Crowdfunding for Investors. Despite having made over 50 of my own crowdfunding investments over the past two years, I still learned several new things and gained new insights from reading this book. I think that you will, too.
Book Overview
Our typical book summary process is to boil down key lessons from an angel investing book (such as Jason Calacanis' Angel) or a general investment book (such as Ray Dalio's Principles) and analyze how (and if) those lessons can be applied to equity crowdfunding investing.
This book summary will be different. This is because the entirety of the book is completely relevant to Title III (aka Reg CF) equity crowdfunding! Thus, trying to summarize all the key takeaways for Reg CF and Reg A+ investors would just turn this blog post into an abridged version of the book.
I can't recommend this book highly enough for both new and experienced crowdfunding investors.
Chapter Summary
As the chapter summary below shows, this book covers everything from the origins of crowdfunding, to intrastate and Reg D crowdfunding, to secondary markets, and everything in between. No investment crowdfunding stone has been left unturned.
Chapter 1 – The Foundations of Online Crowdfunding
Chapter 2 – Equity Offering Platforms (under Regulation D)
Chapter 3 – Equity Crowdfunding
Chapter 4 – Intrastate Equity Crowdfunding
Chapter 5 – Deal Flow
Chapter 6 – Angel Investors
Chapter 7 – Equity Crowdfunding Portals
Chapter 8 – How to Invest, Part 1: Portfolio Strategy
Chapter 9 – How to Invest, Part II: Identify Suitable Offerings
Chapter 10 – Equity Crowdfunding Securities
Chapter 11 – Deal Terms
Chapter 12 – How to Invest, Part III: Due Diligence
Chapter 13 – How to Invest, Part IV: Funding and Postfunding
Chapter 14 – Liquidity and Secondary Markets
David Freedman also provides detailed chapter summaries on his website.
Instead of extracting the key lessons for crowdfunding investors (since there are so many from this book), I'll highlight some key characteristics that separate this book from other investment books that I have reviewed.
Distinguishing Characteristic #1 – Data-Driven and Objective
First, investors should understand that this book isn't written by a famed angel investor or a professional VC. The authors – a corporate lawyer and a financial journalist – rely much more heavily on data, experts (such as Sara Hanks from CrowdCheck), and numerous research studies, in addition to their own personal experiences. Throughout the book, the authors present facts and any assumptions or interpretations in as objective a way as possible, providing references to their sources all along.
That isn't to say that the authors don't make some predictions and more subjective assertions as to their beliefs in the future of the equity crowdfunding industry. However, the majority of the book focuses on historical facts and objective information. This provides the reader with a relatively unbiased perspective of the industry.
Some readers may find that the book reads a bit more like an academic paper or a well-researched piece of journalism.
Personally, I found that this style made the book more appealing. It doesn't try to sugar-coat anything about early-stage investing, and leaves many of the decisions up to the reader (i.e. whether or not to even invest).
Distinguishing Characteristic #2 – A Good Introduction to Reg CF Without Getting into the Weeds
Many of the topics presented in the book – such as due diligence – could easily fill tomes on their own.
The authors include a high-level overview of such topics with sufficient detail about what applies to Reg CF and how to get started. But they do not attempt to turn you into an expert in each of these areas by the end of the book.
I think this approach is perfect for someone who is looking to learn the basics, or for someone who wants to review areas of weakness that they wish to improve upon.
While you may come away from this book looking for additional references in certain areas (such as due diligence, crowdfunding deal terms, and more), this book provides a solid foundation to start building that expertise. Yet it still provides enough content that you can feel confident to begin screening your first Reg CF deals by the end of the book.
Distinguishing Characteristic #3 – Comprehensive and Informative
Lastly, one of the things I liked most about this book is that it provides historical examples and different perspectives throughout. For example, instead of jumping right into Regulation Crowdfunding, the authors talk about the earliest forms of crowdfunding (from the Statue of Liberty to Kickstarter), discuss Regulation D for accredited investors, and also touch on intrastate crowdfunding.
While none of these stories are necessary for investing in equity crowdfunding, they help put Reg CF within the context of recent evolutions in the private capital markets.
The authors went on to discuss many of the possibilities of Reg CF, which still haven't been realized today. This includes things like JOBS Act legislative reform (now called JOBS Act 3.0), secondary markets, and more.
Overall Impressions
Overall, this book is the best resource that I have come across on investing in equity crowdfunding.
Other books on equity crowdfunding either don't get into the nuances of investing in crowdfunding deals, or are not as thoroughly researched and complete in their discussion of Regulation Crowdfunding investing.
Some Additional Reading Required…
While there are many positive aspects of this book, no book is perfect.
There are a few areas where this book wouldn't be able to act as a stand-alone resource, and for good reason: some of these topics are either 1) constantly changing and still in-flux, or 2) too complex and nuanced to cover in a single book.
Here are some of the areas where you may wish to get additional resources in order to dive deeper into each topic.
Latest Reg CF industry and funding portal trends and stats
As expected of a book that was published in 2015, it cannot shed light on what the top funding portals are today, or what some of the industry trends have been.
As we have covered in our CrowdWise Academy "Where to invest" course, the top 2 platforms (WeFunder and StartEngine) account for over half of all Reg CF offerings, while the top six intermediaries account for nearly two-thirds of all Reg CF deals.
Security Token Offerings (STOs)
Again, since the book was first published in 2015, prior to Reg CF going live (and prior to the 2017 crypto bubble), the authors remain completely silent on anything having to do with token offerings or cryptocurrency.
Investors should be aware that many funding portals, such as Republic, will have some token offerings as part of Reg CF, Reg A+, or both. However, the lack of mentioning tokens does not take anything away from this book.
Some Outdated References (e.g. Crowdfund Investor Insurance Companies, other URLs)
Lastly, understand that a few of the businesses mentioned in the book – such as crowdfunding insurance providers, as well as several other resources – are either different or defunct as of 2019. The authors were well-aware that this would occur as they provided disclaimers throughout the book. It is simply another aspect to keep in mind as you read the book, and again, does not take away from the overall positive impact that this book will have on investors.
My Opinion: Still the Best Crowdfunding Investing Book as of 2019

As I mentioned at the beginning, as of 2019, this is easily the most thorough, comprehensive, unbiased book available for investors in equity crowdfunding.
While the future of Regulation Crowdfunding is still uncertain, there is one quote from the book that resonated with me. It touches upon how the mission of Regulation Crowdfunding is so deeply ingrained within our nature as Americans:
"Since the Declaration of Independence, all new, big ideas about government and commerce in America have been met with criticism, pessimism, and fear, along with optimism and hope….We are a nation of pioneers, experimenting and sometimes failing, always recovering, and quite often succeeding spectacularly. Equity crowdfunding is a new, big idea, a wild frontier." – Equity Crowdfunding for Investors
Any investor that is starting out or interested in online startup investing should pick up a copy of this book. While some readers may find that its style is akin to a thoroughly-researched and well-referenced academic paper, rest assured that the information and data presented will truly add value to your crowdfunding investor repertoire.
Compared to other books where the author-investors rely much more on "gut feel", personal success stories (data point of one), or other factors that can't be easily translated to new investors, this book does a fantastic job breaking down Reg CF and providing investors with actionable and practical information.
About the Authors
David Freedman is a recently-retired financial and legal journalist. As a journalist since 1978, David has served on various editorial staffs and published several books. David has written extensively on angel investing and crowdfund investing in many journals. Some of his most recent publications are on Financial Poise.
Matthew Nutting is a corporate lawyer at the firm of Coleman & Horowitt in Fresno, CA. He advises entrepreneurs, early-stage companies, and investors, with an emphasis on rewards-based and equity crowdfunding. He has written numerous publications on Title III and equity crowdfunding.
Join the CrowdWise Book Club
Would you like to get investment book reviews and key lessons like this one from all the relevant books that I read?
Join the CrowdWise book club today (free) and get these book summaries delivered straight to your inbox as soon as they are released.