2022 Equity Crowdfunding Stats and Top Platforms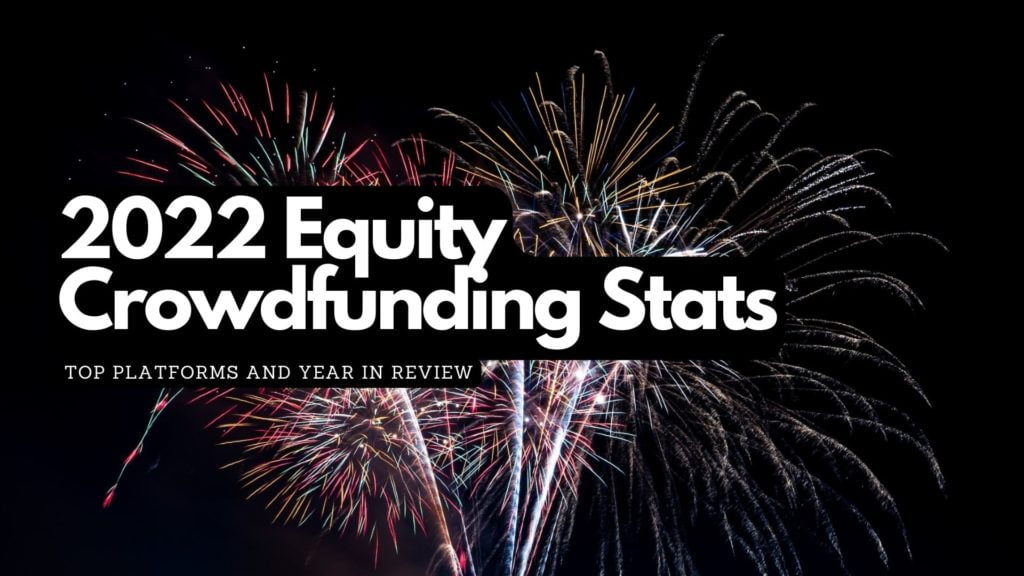 After two record-breaking years in 2020 and 2021, Regulation Crowdfunding (Reg CF) and Regulation A (Reg A) had another great year in 2022. While 2022 didn't surpass the records set by equity crowdfunding in 2021, the industry continued to mature and evolve despite the macroeconomic headwinds caused by rising interest rates, high inflation, war, and numerous other factors.
We saw consolidation across some of the top crowdfunding platforms as StartEngine acquired Seedinvest and Republic continued its overseas expansion through its acquisition of Seedrs, one of Europe's leading investment crowdfunding platforms. Other notable events in the Reg CF industry in 2022 included Netcapital going public, numerous exits via IPO and acquisition, and unfortunately, several notable crowdfunded companies going out of business (one of the most notable, NowRx, closed its doors after having raised $27 million in its most recent round in June 2022 at a $275M valuation).
Similar to the past few years, the top three platforms (Wefunder, StartEngine, and Republic) accounted for 79.9% of total Reg CF dollars raised in 2022, coming in at $394.5 million total closed in 2022. The breakdown for the top 10 Reg CF platforms is covered in more detail below.
We've also seen the continued rise of broker-dealers becoming more prominent in both the Reg CF and Reg A industries, with names such as Dalmore Group, Rialto Markets, Dealmaker Securities, and other broker-dealers, in addition to the broker-dealer arms of Reg CF funding portals such as StartEngine, Seedinvest, and Republic continuing to raise massive amounts — sometimes tens of millions of dollars per deal — for some Reg A offerings.
We'll break down the top ten Reg CF funding portals and summarize some of the key stats of 2022.
Top 10 Reg CF Platforms by Total Capital Raised in 2022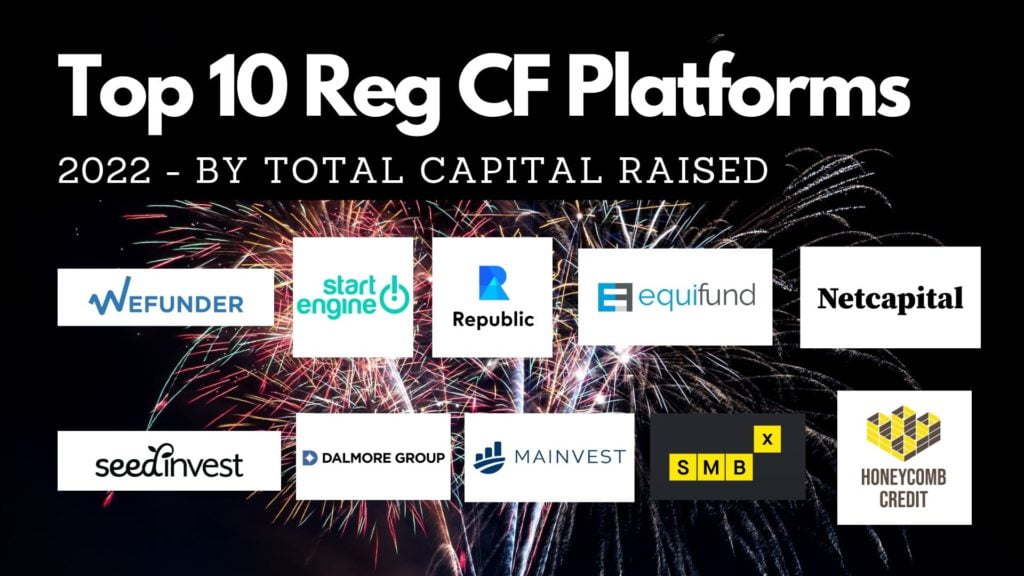 As a reminder, all Reg CF offerings must be conducted through a crowdfunding intermediary, which is either an SEC registered funding portal or a registered broker-dealer.
All the data below can be obtained from public KingsCrowd data that is available to Edge Pro members. All KingsCrowd Edge Pro members have the ability to download the complete 6,000+ company dataset to CSV and run their own analyses.
According to KingsCrowd data, the top ten Reg CF crowdfunding platforms of 2022 are:
Wefunder – $172.8 million from 140,386 investors
StartEngine – $130.4 million from 117,987 investors
Republic – $91.3 million from 101,731 investors
Equifund CFP ⇑ – $14.1 million from 681 investors
Netcapital ⇓ – $13.7 million (no investor data)
Seedinvest ⇓ – $11.3 million from 3,358 investors (acquired by StartEngine in 2022)
Dalmore Group ⇑ – $10.9 million from 4,327 investors
MainVest ⇓ – $9.3 million from 10,942 investors
SMBX ⇑ – $7.4 million (no investor data)
Honeycomb ⇑ – $5.6 million from 5,635 investors
Up and down arrows indicate whether a given Reg CF platform rank has moved up, down, or stayed the same since the 2020 platform analysis. Microventures and TruCrowd/Fundanna (statutorily disqualified by the SEC as a funding portal in 2021 for alleged fraud) dropped off the top 10 list, and NextSeed was acquired by Republic in late 2020.
It's interesting to note that, while the top 7 platforms focus primarily on equity (with some debt and revenue share deals as well), the 8th-10th platforms (MainVest, SMBX, and HoneyComb) are primarily debt and revenue-share deals.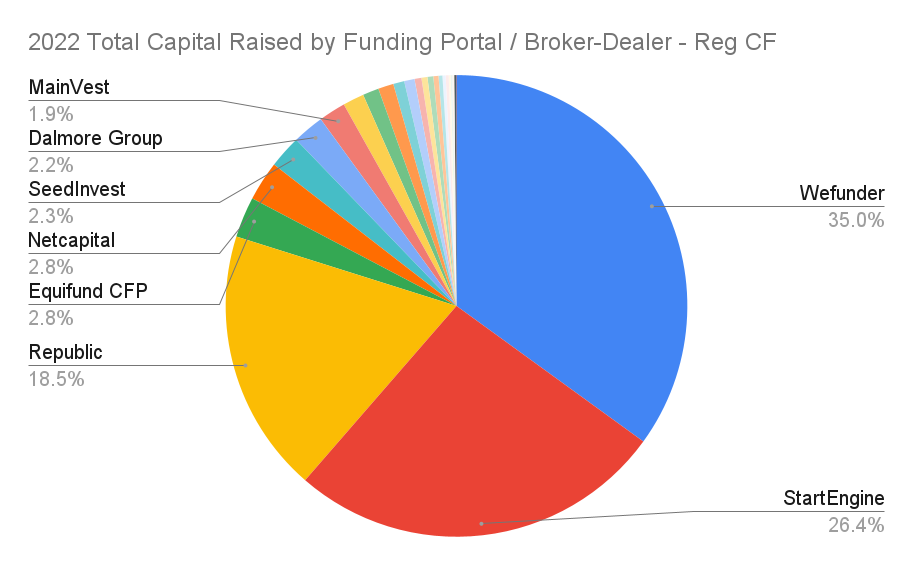 Notes on Data Analysis Method
When reviewing the statistics of capital raised, it's also important to note that numbers can be measured in several different ways, which may account for slight differences between sources. Two of the most common ways that third parties and the platforms themselves analyze the data are:
Total capital raised each day – this means that they are analyzing the actual dollars invested on any given day, and summing that data for the week, month, or year.
Total capital raised for campaigns that closed in a given time period – since campaigns may not be considered successful until they officially close, all the capital may not be credited as successfully raised until the date that a campaign closes.
For example, if a campaign was open for 6 months raised $1 million and closed on January 1, 2022, these two methods could give very different results in terms of whether they attribute the majority of the $1 million as being raised mostly throughout 2021 or all of it in 2022.
For simplicity of initial analysis, the data presented above was analyzed using method 2, crediting all of the capital raised on the close date of each campaign.
For a much more in-depth report of the equity crowdfunding industry in 2022, sign up for KingsCrowd to be notified when they release their 2022 Market Intelligence Report (prior year's report from 2021 here).
2022 Equity Crowdfunding Summary
In aggregate, Reg CF and Reg A companies had a solid performance in 2022, although it's apparent that investor demand (but not issuer supply) was significantly weakening as of Q4-2022.
Key equity crowdfunding statistics for 2022 include:
$494.0 million raised via Regulation Crowdfunding (Reg CF)

Raised across 33 active platforms (funding portals or broker-dealers)
Average investor check size = $1,256

Average is calculated from all platforms that had at least 15 or more deals

394,354 total investments1

$431.8 million raised via Regulation A (Reg A)

Primarily from eight (8) Reg A platforms
Average investor check size = $4,470
107,178 total investments1
Note1: not all platforms report investor numbers, so this is lower than the number of actual investments made.
Top 10 Reg CF platforms by number of offerings
In terms of the number of offerings that closed in 2022, Wefunder and StartEngine accounted for 55% of all Reg CF deals. Republic (153 deals), MainVest (125 deals), and Honeycomb (98 deals) rounded out the top 5 in terms of number of offerings.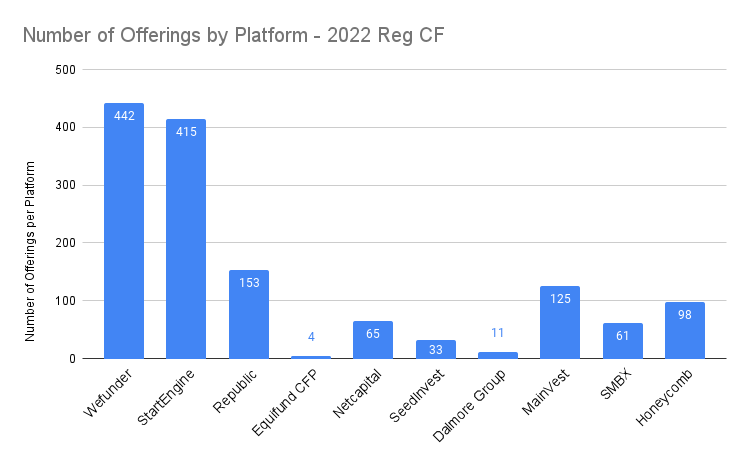 Top 10 Reg CF platforms by average investment sizes (i.e. check size)
Note: Equifund CFP had an average 2022 check size much larger than any other platform at $20,660 because it only had 4 Reg CF raises that closed in 2022. The other platforms that report investor numbers from the top 10 are plotted below side by side for comparison.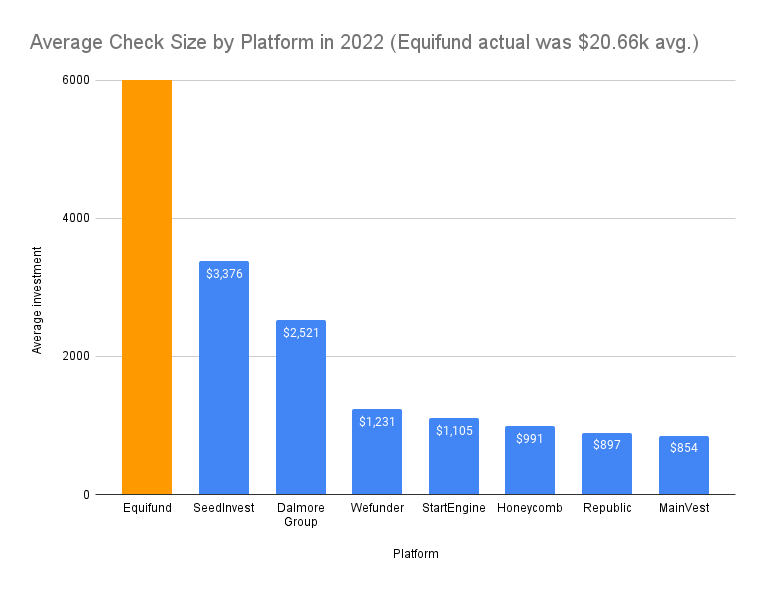 While the average investor check size in past years was typically around $1,000, it's interesting to note that Republic was notable in 2020 for having a much lower average check size under $500. While Republic is still the lowest average check size ($897/investment) among the top equity platforms in 2022 — due to the relatively higher number of smaller investors per deal — it is now much closer to Wefunder and StartEngine's average check sizes in 2022 of $1,231 and $1,105, respectively. This indicates that investors on Republic are investing almost twice as much in Reg CF deals on average as they were in 2020.
Secondary Market Updates
There was a lot of talk in 2020 and 2021 in terms of several of the platforms pursuing secondary markets for Reg CF and Reg A.
While StartEngine Secondary has been operational for a few years now, there have been very few deals available to trade (currently only Collectibles funds in art and wine) and very little actual trading volume.
Netcapital – which had the only other active secondary transfer platform for Reg CF, has paused secondary trades the past two years. They did just recently announce an ATS partnership with Templum Markets LLC in January 2023, so we may see the return of a secondary market for Netcapital later in 2023.
In addition, other platforms, such as Republic, have publicly mentioned that they are actively looking for partners to establish secondary markets for startup investors on their platforms.
While some investors may have a need for liquidity due to cash constraints right now, given the massive pullback in tech valuations and the broader macroeconomic environment, we'll have to see if any new secondary platforms emerge in 2023. Near-term supply and demand of secondary activity of these Alternative Trading Systems (ATS) will still be a big question that platforms will need to answer.
Stay Up to Date on the Latest Online Startup Investing Trends
To get the latest statistics in terms of capital raised via Reg CF or Reg A, visit the KingsCrowd markets page.
This page is updated on the first of each month to reflect the most recent raise data available across all platforms.