2019 US Equity Crowdfunding Stats – Year in Review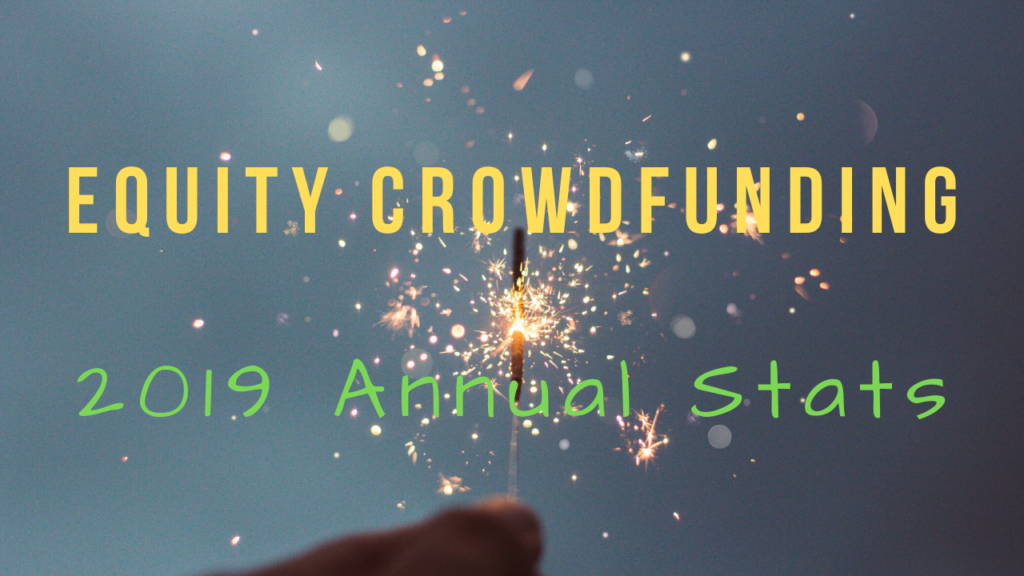 In terms of milestones and stats, the year 2019 was an exciting one for the online startup investing industry (aka equity crowdfunding) in the US. [2020 Update: interested in what the top Reg CF sites are in 2020? Check out the top ten equity crowdfunding sites as of 2020].
The two top funding portals, WeFunder and StartEngine, both surpassed $100M in total capital raised for startups
Regulation Crowdfunding (Reg CF) surpassed $300M total raised since launching in 2016 ($337M as of Dec 31 2019 according to Crowdfund Capital Advisors data)

2019 Reg CF capital raised grew ~59% year over year since 2018 (~$86M in 2018, ~$137M in 2019)

735 total Reg CF crowdfunding campaigns in 2019 (source: SEC's EDGAR Form C Filings) – 4% decline from 2018 (763)
Top funding portals added hundreds of thousands of investors each, reaching nearly 2X year-over-year investor growth from 2018
At least one Reg CF business, CNS Pharma (Ticker: CNSP) from Republic, held their Initial Public Offering (IPO) on the NASDAQ exchange
Secondary Markets for crowdfunding shares were announced (StartEngine Secondary) and secondary transfer platforms used in practice (Netcapital Secondary)
Republic announced the Note Token and their plans to link it to future returns of portfolio companies (simulating an index fund of Republic startups)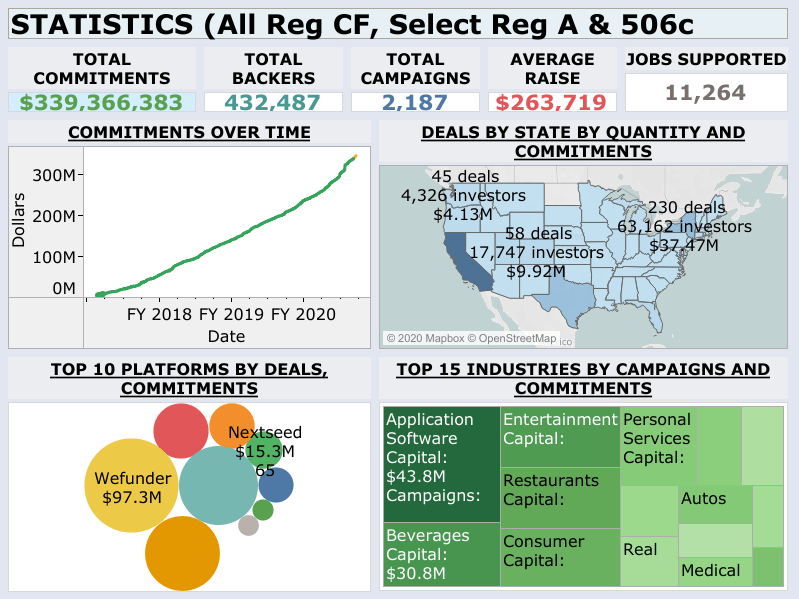 Source: Crowdfund Capital Advisers (CCA), CCLEAR Dashboard
2019 Equity Crowdfunding Stats and Data
2019 Capital Raised by Funding Portal (Regulation Crowdfunding)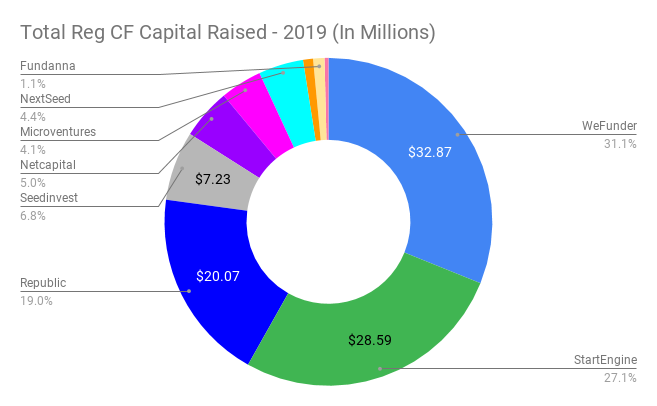 Source: Kingscrowd monthly funding reports
2019 Crowdfunding Campaigns (Reg CF) by Month and Portal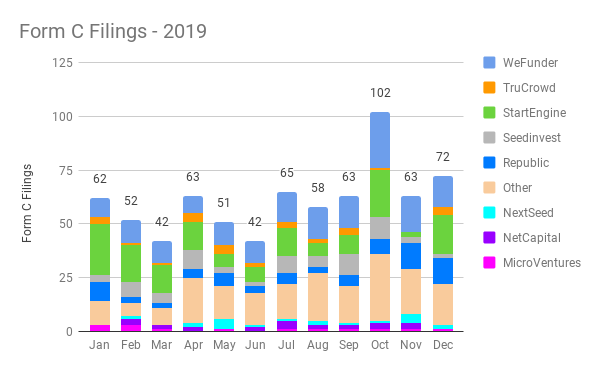 Source: SEC's EDGAR Form C Filings
2019 Crowdfunding Campaigns by Portal (Reg CF)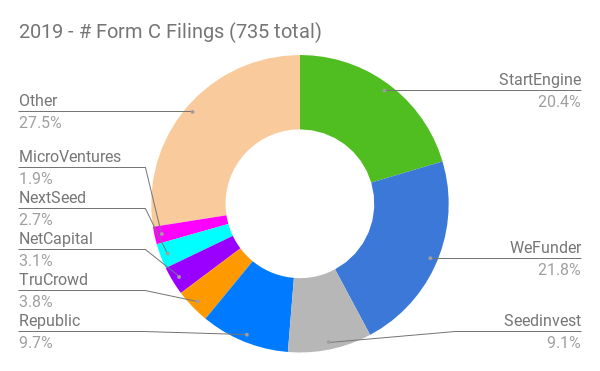 Source: SEC's EDGAR Form C Filings
Get all the latest equity crowdfunding data for the top eight funding portals by visiting our funding portal comparison page.
Startup Investor Communities – 2019 Stats
The Future of Equity Crowdfunding
Despite these advancements in 2019, there is still a lot of room for improvement and growth in the equity crowdfunding market.
Consider a few of these facts:
In 2018, companies raised more than $1.7 Trillion (that's with a T!) in capital under Regulation D

The entirety of Reg CF capital raised to date ($337M+) is not even a fraction of a rounding error compared to Reg D (0.0000198%)

Despite being a smaller overall private capital market compared to the US, one of the UK platforms, Seedrs, raised £283M ($366M USD) in 2019 alone
It's obvious that the potential upside for equity crowdfunding is huge.
Looking Ahead – 2020 Predictions for Equity Crowdfunding
Given all the progress and momentum that the equity crowdfunding industry saw in 2019, what can we expect in 2020?
Our predictions are:
Over $500M in total Reg CF capital raised by 2021
More, higher-quality deal flow for Reg CF deals (especially with the passage of the Crowdfunding Amendments Act)
Continued innovation in the industry – the announcement of passive index funds of startups (similar to this one in the UK), Secondary Markets, other innovations
A re-thinking of how Reg CF and Reg D operate together with the amendment of the accredited investor definition later in 2020
First, there are a few big things to keep on the radars of startup investors.
Right now, the SEC is open to comment against their proposed changes to the accredited investor definition. If some of the proposed changes are adopted by the SEC, this would allow more non-accredited investors to be able to qualify as accredited investors by either passing an exam, holding certain professional credentials, or having other finance related experience. This would give many more sophisticated (as qualified via a test or actual experience, vs. just the wealth levels that are used today) investors to invest in Reg D offerings.
Second, in March 2019, the SEC released proposed changes to Reg CF and the exempt offering framework, which would finally make key updates to the regulations, such as:
Increasing the Reg CF limit from $1.07 million to $5 million
Updating 12-month investment limits (and removing the limit on accredited investors)
Allowing the use of certain special purpose vehicles (SPVs), called "crowdfunding vehicles)
Limiting the types of securities that can be sold and offered to be consistent with Reg A+ (e.g. disallowing SAFEs)
Updating the "test the waters" and "demo day" communication restrictions for Reg CF companies
Many of these updates were recommended by WeFunder, the Association of Online Investment Platforms (AOIP), and many other individuals and organizations since the launch of Reg CF in 2016. Removing these obstacles from Reg CF should attract more issuers to platforms and incentivize more businesses to choose Reg CF as a viable way to raise capital, meaning higher quality and quantity of options for investors.
If growth continues at the current rate and some of the JOBS Act 3.0 changes are implemented, it isn't unreasonable to predict that we may end the 2020 year having surpassed $500M in total Reg CF capital raised, and over $150-200M in capital in 2020 alone.
Overall, this bodes well for increased access to capital in startups, and thus for attracting more quality issuers and giving investors even better investment opportunities.