CEO Alternative Investor Panel – Crowdfunding, Real Estate, and Wine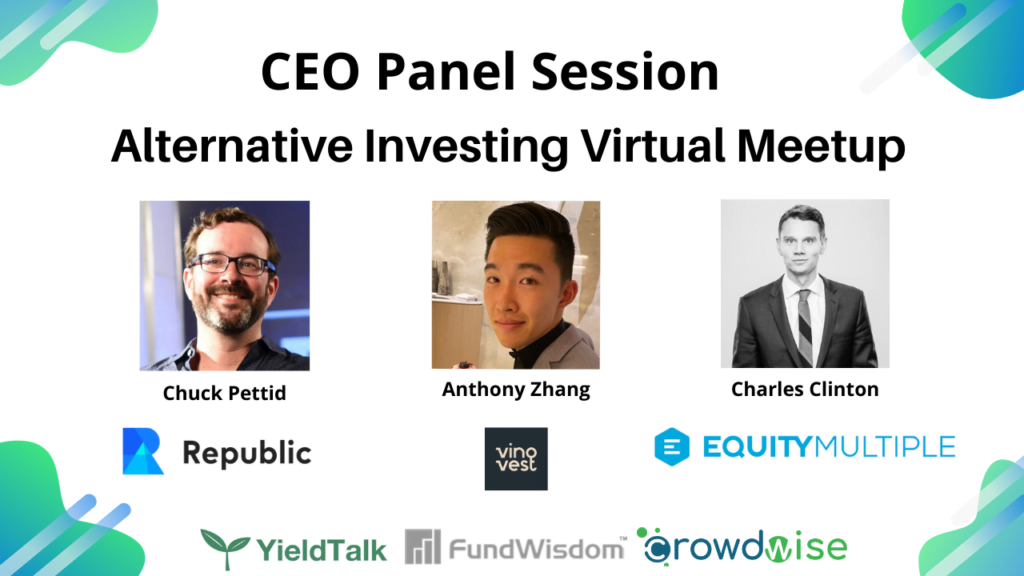 On September 17, 2020, we co-hosted an alternative investor networking and panel session along with our partners at YieldTalk and FundWisdom.
We featured three CEOs in a one-hour panel session that talked all about alternative investment opportunities outside of the public markets:
Chuck Pettid – CEO of Republic Crowdfunding Portal (startup investing)
Anthony Zhang – Co-Founder & CEO, VinoVest (wine investing)
Charles Clinton – Co-Founder & CEO, EquityMultiple (real estate investing)
Alternative Investment Opportunities Outside of Public Market Stocks
With the economic uncertainty of COVID-19 still looming, despite public market stocks recently touching all-time highs, we wanted to explore alternative investing opportunities that were outside of traditional stocks and bonds.
We selected three CEOs from alternative investing platforms and asked questions such as:
Can you briefly describe the main investments that your platform offers?
How do you select the offerings on your platform?
What are the typical investment minimum amounts on your platform?
For VinoVest, since you are not selling securities but instead selling direct ownership of the wine, how does that work?
Where does a novice investor begin to look to grow investments outside of traditional stocks and bonds?
Chuck (Republic) – with all the recent acquisitions such as Fig (video games), Compound (real estate), etc. what's next?
Can you describe the structure of the investments on your platform? What are investors actually getting when they invest?
Does your platform have any fiduciary responsibility to your customers?
What role do you see alternative investment platforms playing addressing some of the funding disparities that have been present in the traditional venture capital ecosystem (e.g. under-represented and underserved founders and entrepreneurs)?
Has the introduction of platforms like EquityMultiple changed the types of sponsors and developers able to secure financing for real estate projects?
What changes do you see in the alternative investing landscape in 5-10 years from now? What do you think is the future of alternative investment opportunities?
Anthony (VinoVest) – what's the incremental booth that VinoVest provides for the fine wine industry?
Liquidity – where are things now and where are things going with liquidity options for buying or selling on secondary markets?
How has the COVID-19 pandemic impacted your platform, the industry, the sector?
Do you invest your own firm's capital into the investments that you offer?
Check out the video above for answers and discussion of these questions and more.