Republic Profit-Sharing Note AMA Summary – July 2, 2020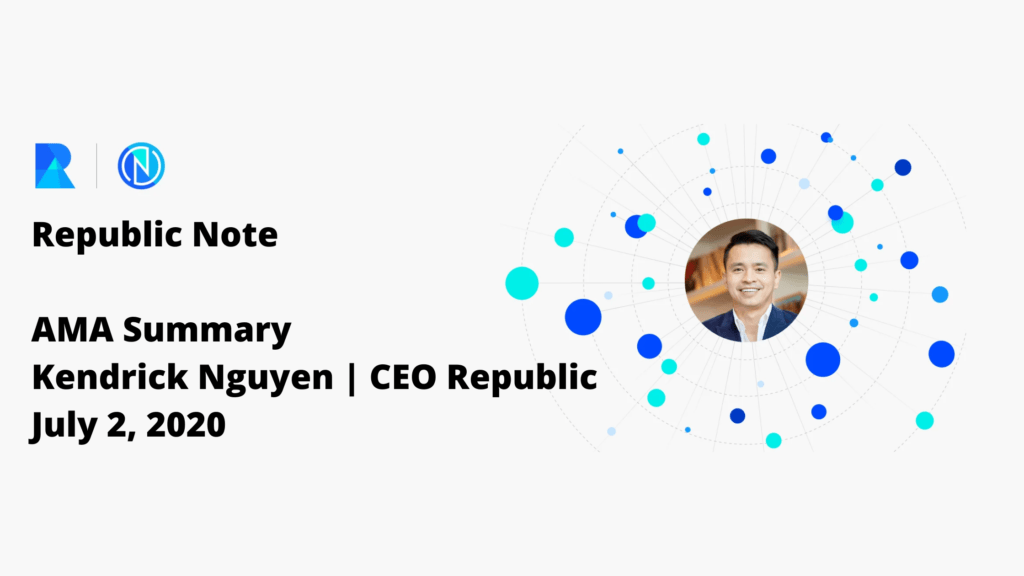 Republic.co – the third largest Reg CF funding portal in the US – recently announced the launch of its profit-sharing token called the Republic Note. The Note is a novel token that will give both accredited and non-accredited investors profit-sharing (but not ownership) rights in Republic's private and public investment businesses.
In the coming days, we plan to do a bottoms-up valuation analysis of whether the Republic Note, which will be sold at $0.12 per Note starting July 16, is a good value for investors.
While Republic is still awaiting qualification for its Reg A+ offering, Notes will be available to accredited investors under Reg D starting on July 16. Non-accredited investors can still pre-register interest here.
Summary of July 12 AMA with Republic CEO Kendrick Nguyen
On July 12, Republic's CEO Ken Nguyen hosted an AMA on Telegram. While Republic plans to put some of the questions into the FAQ in the coming weeks, we wanted to share some of the questions that Crowdwise Founder Brian Belley asked, as well as some other helpful Q&As that aren't available today via the FAQ page or whitepaper.
Kendrick was joined by two of his colleagues, Shrina Kurani (VP of Business) and Jed Halfon (Head of Tokenization).
For a high level overview of the Republic Note (which is different than the Rewards Note), investors who are interested should check out the FAQ page and the Note whitepaper.
To check out the Telegram channel with all the raw discussion, join Republic's Telegram page here.
Q. (Anonymous): How does the Republic Note work? When do I make money?
Shrina: The Republic Note is a profit sharing token. It allows you to share in our profits when certain conditions are met. Specifically, Republic's crowdfunding platform and private capital platform receive cash and an upside potential in every company they raise money for, in the form of equity, carried interest, tokens, etc. If and when those positions succeed some or all of those earnings will be paid back to us and ultimately to Republic Note holders.
Q. (Brian Belley) – How did Republic arrive at a valuation of $0.12 per Note?
Kendrick: We took a look at how other major projects value their total network and apply a significant discount. Afaik, Republic Note is the first project with this large of a community with network value under $100M…As with all projects, today's valuation takes into account future growth, and future growth projection takes into account past growth. We subjectively believe that our network value is priced well below market – loosely defined by comparing against other major networks.
Q. (Brian Belley) – Which stablecoin will the Note distributions be in?
Jed: Hi Brian, we haven't announced what stablecoin we will use yet.
Q. Why's it [built] on top of Algorand [blockchain]?
Kendrick: Cheaper, faster, stronger compared to the alternatives. We also plan to issue a wrapped token on Binance chain down the road.
Q. (Vijay) – Why limit the profit sharing from private raises to only 25%? Is there a possibility to raise this? We all know more than 95% of startups fail and if the distributions are primarily focused on Reg CF companies, I am afraid we may not see much of payouts.
Kendrick: We believe that retaining 75% of the carry interest for ecosystem operational needs is optimal for us to scale . The faster we scale, the more will go to benefit token holders. It's a subjective trade off
Q. (Brian Belley) – Regarding taxes of Note distributions – will Republic be providing any type of tax forms such as Schedule K-1's, or are the Note holders on the hook for tracking all taxes?
Kendrick: Note holders will be responsible for their own taxes but will provide some guidance and hopefully product support down the road.
Q. (Garrett) – What cryptos will we be able to purchase the NOTES with?
Shrina: Bitcoin and Ethereum.
Q. (Anonymous) – What the custody solutions look like?
Jed: We are in discussions with a number of provider to offer support for ASAs. We also intend to have native wallet support on the platform when it's time for distribution.
Q. (Zhi) – Will the purchase of the tokens be subjected to our republic investment limits? Also, can non-US residents purchase the note token?
Jed: No, the Reg CF limits won't apply, and non-us can participate!
Q. (Brian Belley) – What is the plan for Reward Notes vs. Republic Notes (i.e. profit-sharing)?
Jed: Thanks, Brian. We intend to allow Reward Note holders to be able to swap out their Reward Notes for Republic Notes.
Q. (Brian Belley) – What will the Reward Note to Republic Note exchange rate be (e.g. 1:1)?
Kendrick: It will be 1-1.
Q. (Brian Belley) – When, if ever, do you anticipate the full 800 million Notes to be in circulation? Can Republic mint more Notes if you decide to increase that number in the future?
Jed: We don't have a set date, but we have locked 240M worth of Republic Notes that won't become available until 2023.